Choung RS, Locke GR 3rd, Schleck CD, Zinsmeister AR, Melton LJ 3rd, Talley NJ. Gastric scintigraphy has been widely used for the diagnosis of gastroparesis. The pathophysiology of diabetic gastroparesis includes damage to intrinsic and extrinsic neurons, smooth muscle, and interstitial cells of Cajal (ICC). Treatment can be difficult due to the several mechanisms for symptom production. Extrinsic denervation was considered the most common etiology; however, with the decline in surgery for peptic ulceration and in-depth study of full-thickness gastric biopsies, the most common intrinsic defects are being recognized in the interstitial cells of Cajal (ICC-opathy) and with immune infiltration and neuronal changes (intrinsic neuropathic gastroparesis). Diagnosis requires identifying the proper symptom complex, while excluding other entities (peptic ulcer disease, rheumatological diseases, medication effects). Functional dyspepsia is characterized by the same symptoms as gastroparesis; in addition to delayed gastric emptying, pathophysiological abnormalities include accelerated gastric emptying, impaired gastric accommodation and gastric or duodenal hypersensitivity to distension and nutrients.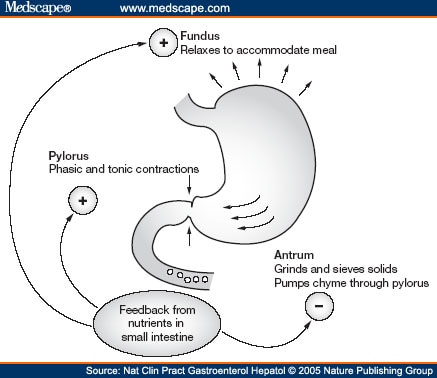 Gastroparesis results in delayed gastric emptying without true gastric outflow tract obstruction. There was a wide range seen in diameter (5.6-22.1 mm) and distensibility (1-55 mm(2)/mmHg) of the pylorus. Symptoms of early satiety and postprandial fullness were inversely correlated with pyloric sphincter diameter and CSA. The role of the vagal nerve in normal gastric emptying is emphasised by the fact that inadvertent vagal nerve injury during procedures such as fundoplication, or demyelination of the vagal nerve nuclei produced by disease processes such as multiple sclerosis, causes gastroparesis. Defects in smooth muscle, interstitial cells of Cajal (ICC) and neuromuscular neurotransmission have all been described in the stomach of diabetic animals, with loss of ICC and impaired nitrergic and cholinergic neurotransmission being the most consistent findings. There are very limited data regarding EGG findings and gastroesophageal reflux disease (GERD). (5) reported that diabetes and idiopathic causes each accounted for almost one-third of cases of gastroparesis; the remaining cases included post-surgical, collagen-vascular, and neurological disorders.
We recently described the cellular changes associated with diabetic (DG) and idiopathic (IG) gastroparesis from GpCRC patients.14 On quantitative comparisons, the most commonly observed findings were loss of ICC and an immune infiltrate characterized by an increase in CD45 and CD68 immunoreactivity in both DG and IG.